EBC BRAKES
---
FOS is offering EBC Brakes to a range of cars including Audi 3.0 SC, Audi r8, BMW 335 E90, Cadillac CTC C 2012, Chevy 6.2 Brembo, Chevy ZL1, Dodge RT 2012+, Dodge SRT 6.4, EVOX, STI, Ford Mustang  GT, Honda S2000, Hummer H3 2006, Jeep Grand C5.7 2011+, Jeep Wrangler 3.6 2007+, Nissan 350 Z, Nissan 370Z, Nissan GTR 35 08-10, Nissan Y61, Nissan Y62, Porsche 997 TT, Toyota FJ Cruiser, Toyota GT86/BRZ, Toyota LC 200, Toyota Sequoia, Toyota Supra, VW Golf GTI, VW Golf R MK7.
Why EBC Brakes?
EBC Brakes is a world leader in the manufacture of disc brakes components. They have expand rapidly in the automotive industry where they became the world leader in sport, high performance and race brake pads and discs with a massive trademark range of products. EBC produces 100% of its brake pad range in its own factories in the UK and has just recently launched the ECO friendly Ultimax 2 brake friction material that is completely eliminated with all heavy metals and sulphides.
Our Brake Pads:
ULTIMAX2 OEM QUALITY PADS
Made in the UK Bristol EBC Brakes Manufacturing Plant the Ultimax2™ brake pad is a beautifully engineered brake compound that lasts well, produces minimal dust and is the perfect choice for the urban or daily driver. Why spend more if all you need is a quality replacement pad. Our radically improved Ultimax ECO friendly brake pad where you can feel the true engineering of this pad by the bite and brake feel than any other pads you are likely to try. With a pad matrix free of any ingredients, like all EBC pads these are a futuristic pad blend that considers the environment yet delivers great brake performance at a fraction of manufacturer pad prices. It is fitted with chamfers and dust slots and the EBC Brake-In™ coating. These pads are not
normally shimmed as this material runs silent. It works great in hot and cold climates.
This is what Ultimax2™ brake pads deliver:
Superb daily driver R90 type approved pad.
Features red "brake in' surface coating for instant safe braking after install.
New 100 % ECO friendly material with ZERO sulphides.
No shims for noise reduction needed.
More bite from cold and hot climates.
Works in hot and dry climates as well as in cold.
Fully R 90 approved as was the original Ultimax grade.
Ultimax2™ brake pad will supersede on a stock rotation basis its predecessor material and customers will only be supplied Ultimax2™ as stocks of the 2012 sell through or they place a specific order for a production run of 100 sets per reference for a dedicated production batch. If you simply need a quality OEM replacement pad, look no further than the Ultimax2™ brake pad.  The Ultimax2™ brake pad is a total on metallic pad containing zero steel fibre making this a cleaner pad far less aggressive to cast iron brake rotors. This equates to a clean pad, that lasts longer, extends disc life and emits zero toxicity and is a true pad for the future. The brake effect with the GG ratting is truly amazing and delivers powerful braking at first brake application. Ultimax2™ has also been widely tested in cold and damp conditions in Northern Europe and Scandinavia and in the Caribbean hot and humid temperatures where brake noise was zero.
GG friction rated highest in brake effect
Top Rated with Class N by the USA environmental testing to SAE J2975:2011
---
GREENNSTUFF 2000 & 6000 SERIES PADS
EBC medium dust fast street pad with 20-25% % brake improvement.
Capable of repeated heavy brake use without brake "Fall-Off".
Very minimal disc/rotor damage characteristics.
Superb material for lighter model Asian and European sport compacts.
ECE R 90 type approved for most cars.
Features red "brake in' surface coating for instant safe braking after install.
Since EBC Brakes launched its sport range in 1997 EBC Greenstuff brake pads have sold well over 3 million sets of performance automotive brakes all over the world and has become the number one selling EBC sport pad. It is essential to note that EBC offer three ranges of Greenstuff brake pads, engineered for each application
Greenstuff 2000 series for sport compact and hot hatches
Greenstuff 6000 series for entry level truck and SUV upgrade
Greenstuff 7000 low dust Truck and SUV Brakes
Appreciated by drivers of cars up to 200 BHP year 2009 sees the launch of the 9th version of EBC 2000 series Greenstuff which has once again pushed the performance barriers of organic friction materials. The latest version of Greenstuff brake pads are a deliberately softer compound to improve pedal feel on lighter cars at lower speeds. This resulted in a medium dust material with good lifetime and minimal rotor wear.
Many drivers of lighters cars and kit cars have used Greenstuff 2000 series with success in race use and tests at the UK MIRA Motor Vehicle Research Institute have shown a version of Greenstuff to stop a car almost 20 feet quicker than original parts on a popular hot hatch braking from 60 MPH offering a huge 15% brake improvement.
---
REDSTUFF CERAMIC SUPER STREET PADS
Redstuff ceramic brake pads, passenger car/saloon car pad not made for Truck or SUV fitments.
EBC lowest dust fast street pad with 20-25% % brake improvement.
Capable of repeated heavy brake use without brake "Fall-Off".
Very minimal disc/rotor damage characteristics.
Superb material for Prestige imports/European and Asian cars.
ECE R 90 type approved for most cars.
Features red "brake in' surface coating for instant safe braking after install.
As EBC's flagship street brake pad material for prestige and faster cars above 200BHP, the 09 version of EBC Redstuff ceramic Brake pads sets new standards in brake performance. Redstuff ceramic brake pads have always been known for its low dust ability but the latest blend has greatly reduced the phenomenon of pad "Pick up" or disc scoring and reduced dust even further.
Tested at the UK Motor Industries Research Assicaition (MIRA) in witnessed tests early Redstuff reduced car stopping distance in tests by almost 50 feet from 100 MPH offering a staggering 30% brake improvement.
---
YELLOWSTUFF "R" PADS
Truck Yellowstuff Sport brake pads are a high friction formula that improves brake effect 30-40%.
Zero brake fade makes this material perfect for heavier loads such as towing.
Capable of repeated heavy brake use without brake "Fall-Off".
Very minimal disc/rotor damage characteristics.
Suitable for all light trucks, Jeep and SUV in highway use.
Superb brake control and pedal response.
Features red "brake in' surface coating for instant safe braking after install.
Because of its huge heat range, the applications where EBC Yellowstuff will deliver benefits range from fastest street use on higher horsepower sedans to Trackday and Race use on most street based cars and even as a brake upgrade on Trucks and SUV. Truck Yellowstuff Sport brake pads are especially appreciated on Trucks for towing and heavy loads and where wheel and tire oversize upgrades have been fitted.
Truck Yellowstuff Sport brake pads are not rated as low dust and create similar dust to OEM pads. If lower dust is what you seek, Greenstuff 7000 is the most favourable option but will dust more with heavy vehicles.
Redstuff Brake Pads should be your choice for fast street use.
These pads are a full FMVSS grade higher in friction level than most stock pads and as such will feel stronger on the pedal after install and bedding. The pads are also a race developed friction material designed for heavy heat and brake abuse. As an ideal upgrade pad when fitting oversize tyres and wheels, the EBC yellowstuff brake pads have been tested to destruction by the likes of Randy Merritt of Mongo Racing in off road desert racing.
---
BLUESTUFF NDX RACE MATERIAL PADS
Bluestuff Intermediate grade Trackday pads or Bluestuff NDX is a high friction sport and race material that can be used for aggressive street driving and certain types of track use. The material has had much success on the track with quality aftermarket calipers (Multi piston systems with better release and cooling and larger rotors) and limited success with street based calipers where pad size and caliper drag can challenge any brake material.
The biggest advantage of EBC Bluestuff intermediate grade trackday pads or Bluestuff NDX is their bite from cold and progressive brake feel and the ability to bring a car to a complete stop. This has led to the ECE R90  brake safety regulation approval of R90 which is now completed and certificates are being obtained (during July 2011). There are certain older street based caliper systems where even the new Bluestuff Intermediate grade Trackday pads will
have trouble handling the caliper and slider drag inherent in the systems but this scenario is exactly the same for our competitors. There is NO material that will be perfect on the track in all older street based caliper systems.
Deep V grooves help venting and catch dirt, dust and debris. Notice the open granular surface texture after the heat scorch (pre-bedding) process. Pad shown is a European 4×4 which features balance weights for noise reduction.
For longer race uses see the new range of EBC Orangestuff grade full race pads which deliver faster bed in and higher temperature thresholds. As with all brake pads selection involves a trade off with life and disc/rotor wear and EBC have chosen with both the Bluestuff and Orange grade race pads to offer a pad that is the replaceable item rather than the disc or rotor. You will find that the EBC product is far kinder to to your brake discs than comparable granite like semi metallics which may last longer but take your rotors with them.
---
ORANGE STUFF RACE MATERIAL PADS
This new full race material pad from EBC Brakes features the same chemical interlayer syste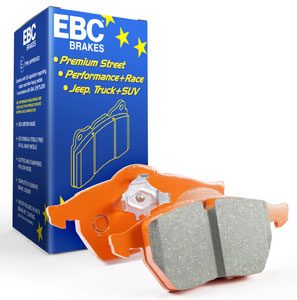 m as the EBC Blue stuff NDX range, suitable for heay duty race use. In its third year of use the Orangestuff compound has proved to be a great solution for medium/longer duration race use than its famous stable-mate the yellowstuff brake pad grade and a great drive to drive away pad for Trackday driving. This amazing material grips with approximately 0.5µ from first brake and never drops below 0.4µ. These pads DO NOT FADE!!
Benefits are:
Fast bed in due to factory pre-scorched surfaces
Huge friction level
Stable at highest temperatures
Reduced rotor/disc damage
Effective from cold making this material street usable
---
REQUEST FOR A FOS QUOTATION:
---
FOR MORE INFORMATION, CONTACT US: